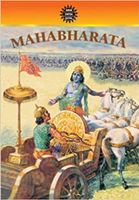 Mahabharata - 3 volume set
₹ 2899₹ 3449 Buy using 7500 coins
"This 42­comic box set is a comprehensive retelling of the greatest epic ever. Full of twists and turns, it's packed to the brim with action, betrayal, deceit, brotherhood, faith, loyalty, trust, disgust, anger, and more Delivery in 14-21 Working Day
Product Description
Cancellation Policy
Refund Policy
Veda Vyasa's legendary epic needs no introduction. The Mahabharata is a story of brotherhood, deceit, love and sacrifice. It is also the setting for The Gita, Lord Krishna's discourse on dharma. This 42­comic box set is a comprehensive retelling of the greatest epic ever.

Volume one is about the early days in Hastinapur and the birth of Duryodhana's hate for his cousins the Pandavas. The story continues to the Pandavas' escape from the burning palace of shellac to their eventual marriage to Draupadi.

Volume two describes the events of the fateful game of dice which ends in the Pandavas losing their entire kingdom to the victorious Kauravas. The Pandavas are sent into exile for 13 years.

Volume three encapsulates the great battle of Kurukshetra. The bitter war is fought for eighteen days ending, with Krishna's help, in victory for the Pandavas.

This is an essential storybook for every household.

Order it. Read it, gift it, or share it.

Come together with Amar Chitra Katha!